....other birds to note, and a BD.
Checking up on the local breeders yesterday, I found a

Common Tern

at Conder Green, sitting tight on the nest on the island on Conder Pool, but had no sighting of the other bird on two visits I made there. Also on the pool,
2

Little Grebe

one of which was in summer plumage,
I counted at least 52

Lapwing

and 40

Redshank

, and noted
in the creeks
, 5

Common Sandpiper

, 2

Greenshank

, a

Snipe

, and 2

Little Egret

.
The Lune Estuary at Glasson Dock held too much tidal water and waders were too distant in the haze, but I could estimate 300
Redshank
and 150
Dunlin
from the bowling green, with 2
Goosander
seen again.
At Cockersands, high tide Plover Scar was desperate and I found no more than eleven waders in total, but hey....the other local breeders the

Ringed Plover

family were found still in tact, the three young were the first birds I clapped eyes on when I arrived at the scar and are set to fledge before the week is out....looking good.
There was even bigger numbers of

Swallow

today over the fields and loafing around on the fence wires, with a few

Sand Martin

in the mix, also at least 60

Tree Sparrow

seen, and a

Whitethroat

seen disappearing into a bush, with 7

Whimbrel

off Crook Cottage. Four

Peacock

butterflies were in the cover crop field on Slack Lane.
The Banded Demoiselle.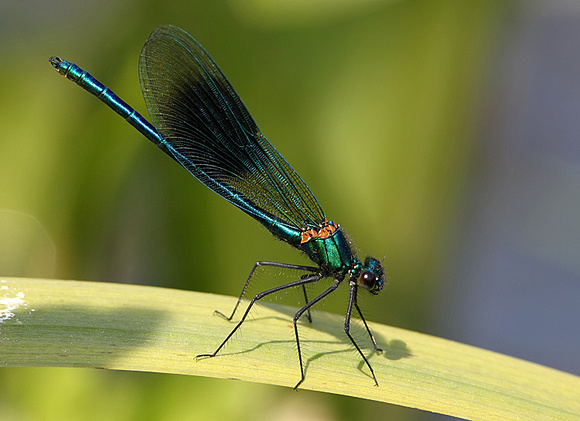 The Banded Demoiselle have expanded their Lancashire range more than any other species in recent years, they are m
ainly found along slow-flowing lowland streams and rivers, particularly those with muddy bottoms.
Only two species of damselfly in Britain have obviously coloured wings
. In the Banded Demoiselle the wings of the mature male have a dark blue-black band across the central portion. The body colour in the male is
metallic blue-green,
the flight is fluttering and butterfly-like and
I was impressed in watching the beauty of a male 'stream-side butterfly' the Banded Demoiselle as it flew back and forth on the River Conder upstream from the A588 road bridge before disappearing from view.
Thanks to Brian and Marc for the excellent 'clik the pik' photographs.