The Shore Lark found last Wednesday is still entertaining visitors to the shore
at Rossall Point
a week later. If it happens to stay until Sunday I'll maybe pull a fast one on KT and ask if she would like to visit the Freeport shopping complex at Fleetwood to top up her Christmas present list.
My one and only sighting of the Shore Lark (SL) was a memorable one 20 years ago on New Years Eve in 1994, when my old friend and mentor John Leedal and I visited Lytham St Annes where the birds were present. I remember the day well, the weather was a mix of wind, rain, and sunny spells, and it was during one of the latter sunny spells we had excellent views of three SL together....you never forget birding moments like that, and for me fond memories of J. Leedal too.
All British records of SL are believed to be of the subspecies flava which breeds in Fennoscandia and western Russia, they migrate SW to winter along the coast of W Europe, the majority of which winter around the Dutch and German Wadden Sea, with a small number regularly in Britain, especially on the east coast....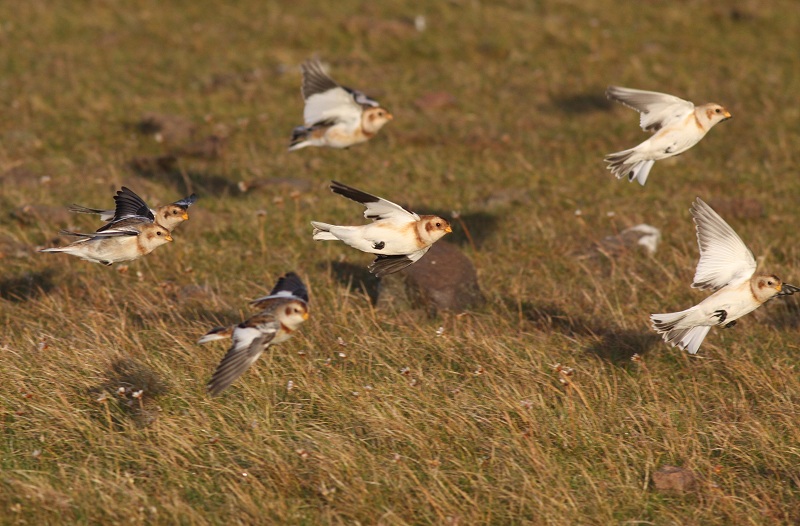 Snow Bunting. Copy Permitted.
....
often with Snow Bunting and Twite. The SL is rare in Ireland, and uncommon away from the mouth of the River Dee and Anglesey.
Summering SL occasionally occur in the mountains of north and western Scotland where they were found breeding in two summers during the 1970's, but a fledged juvenile found in 2003 was the first confirmed breeding of SL in Scotland since 1977.
I'd sooner be birding....but the 'weather bomb' has arrived and little if any chance at the moment, the whole thing has gone pear shaped.